Do you want to add video reviews to your Shopify product pages? Video reviews on product pages help you sell more products by increasing your conversion rate. Customers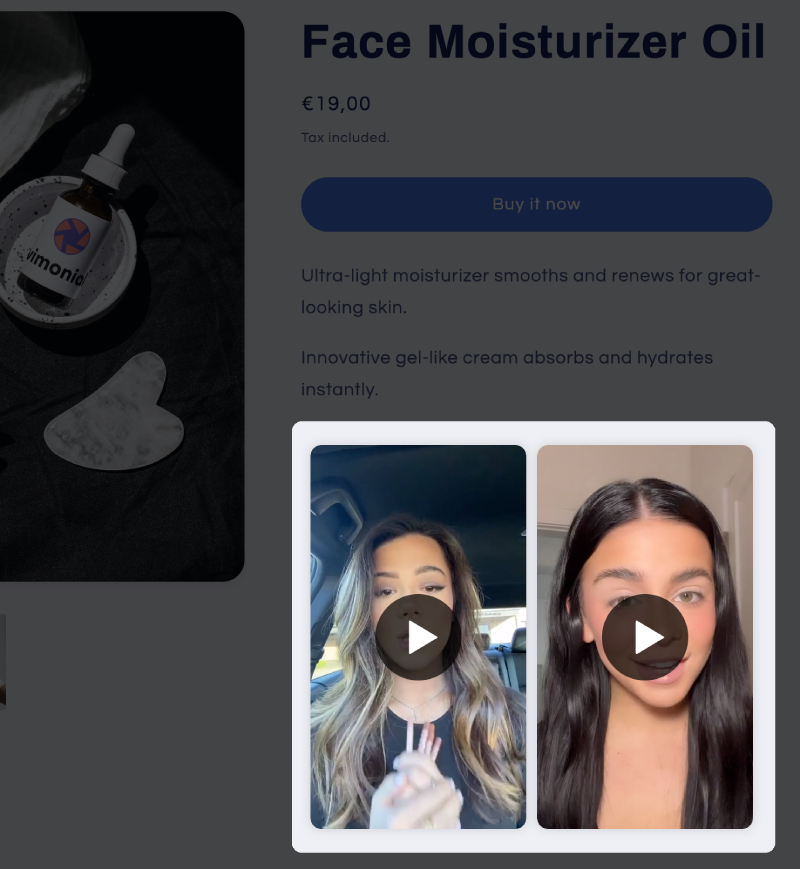 Should you add video reviews to your Shopify store?
Adding video reviews and testimonials to your store builds social proof and increases your conversion rate.
Customers can see and feel your products before they buy them. This way, they can get an overview of what to expect when they receive your products. Video testimonials are much more authentic than regular text reviews. Therefore, they can build a lot of trust with your customer base. You get way more social proof with video testimonials than with text reviews for your store.
How do I embed video reviews in my store?
You decided to embed video reviews in your Shopify store, but how do you add them?
The easiest way to add video reviews to your online store is to use a specialized app like Vimonial. Vimonial is a Shoppable Video app that lets you embed a beautiful video carousel or popup videos right into your store. Unlike YouTube or Vimeo video embeddings, you can customize Vimonial to fit perfectly into your design language. This way, you get the most out of your marketing strategy.
3-Step Guide to Install Vimonial and Add Videos to Your Product Pages:
Install Vimonial in the Shopify App Store.

Before you can add videos to your product pages, you have to install the Vimonial app on your Shopify store (click the button below to install Vimonial or search for it in the App Store).

 

Upload some video testimonials to Vimonial.

Now you are ready to upload your first video testimonial. Navigate to the video library in the Vimonial admin interface and click on "Add Video". Then you can choose whether you want to upload a video from your local device or if you would like to import videos from TikTok.

You can select multiple videos for importing. Vimonial will now encode your video, so it will be delivered to your customers in the best possible way.

To display the videos on product pages, you can link them in the video library to products. Vimonial will show your product in the video and make it shoppable. Customers can then directly buy your products while watching the video.
Add the video widget to your store and customize it to your liking.

To display your video testimonials in your store, you have to add the video widget to your Shopify theme. Just go to Online Store → Themes and click on "Customize". Then navigate to your desired page and select the Vimonial Carousel widget. You can drag the widget wherever you want on your product page or other pages.

On product pages, Vimonial will display the videos of all linked products. On other pages, Vimonial will display all videos, or you can set it to display only videos from a specific campaign.

 
Where should you add video testimonials?
You can choose between displaying video testimonials on product pages, on your homepage, or on other pages.
Adding video testimonials to product pages helps the user understand the product and its benefits. It helps you improve your conversion rate because it gives you social proof. It is best to only display videos related to the current product.
On the homepage, it is best practice to use videos, which give an overview of the collection and the brand. You can also use advertising videos to sell customers your new products. As the videos with Vimonial are shoppable, customers can buy them directly while discovering your products.
As Vimonial has a social media-like feel, customers can scroll to the next video just like they are used to. So feature multiple products and show them your brand to get them interested in buying from you.
Conclusion
Embedding video testimonials on your Shopify pages is one of the most effective ways to build trust with your customers and increase sales.
Videos are the most engaging way to showcase customer experiences and let them get a feel for your products. You can highlight the benefits of your products or services. It is way more engaging for visitors to watch your videos than read long paragraphs of text explaining your product.
By featuring real humans sharing their experiences, you gain a lot of social proof, and visitors will feel more confident in their purchase.
Overall, embedding video testimonials or reviews on your Shopify product pages is one of the best ways to increase conversion rates by strengthening trust in your brand.
Install Vimonial today and profit from more sales for your brand.